Femsa
HARNESSING EFFORTS – WATER
WATER AND SANITATION PROJECTS
DRINKING WATER SUPPLY SYSTEM FOR WAYÚU COMMUNITIES
Broadening the Scope of Impact  
Drinking Water Supply System For Wayúu Communities
The commitment of the residents of the communities has been key to our projects ever since we started working in the region with Water Links (Lazos de Agua).
The economic conditions and the significant distance between Wayúu communities hinder the distribution of water. During 2017 we built a supply system to expand and enhance access to this resource.
FACT SHEET
Location: Maicao, La Guajira, Colombia
Partners: Fundación Aguayuda
Total Investment: USD $113,050.00
FEMSA Foundation's Investment: USD $100,000.00
Duration: 2017
General Objective
Enhance and amplify the benefits of a sustainable and self-administered safe water supply system (it has been a successful model). Broaden and improve the level of access to safe water and sanitation for a rural and indigenous community. It should be noted that it will be used as a replicable model regarding other zones of the La Guajira Department.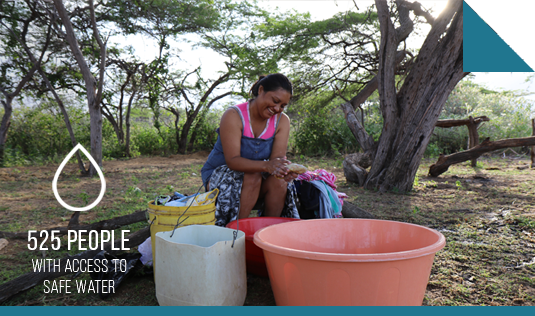 Having access to safe water and covering basic needs was not a simple task for the residents of Wayúu. During 2017, we worked to bring this resources to their homes.
The lack of water was not only due to economic conditions of the region where 83% of the population lives below the poverty line. The geographic conditions act as obstacles because communities like Kasichi or La Parcela are far away from each other therefore hamper the construction of the distribution network.
"It's important and dignifying to have access to water because it improves the children's and our community's quality of life. I'm so pleased to have been benefited by this project, I feel happy".
Josefa Girnú
Shamima'ana Community
With Fundación Aguayuda, we built a universal model that will enable 525 people to have access to safe water. It will diminish time in terms of its quest and its collection. The high level of participation of the communities was an essential element because the ownership of the project will guarantee its own sustainability.
This is not the first time we work in the region. Between 2013 and 2015, we impacted the communities La Parcela and Wayumana'ana due to the drilling of a well during the first phase of Water Links (Lazos de Agua).