Femsa
HARNESSING EFFORTS – WATER
WATER AND SANITATION PROJECTS
GREEN TECHNOLOGIES IN THE VALLEY OF MEXICO
Infrastructure for Growth
Green technologies in the Valley of Mexico 
In the Valle de Bravo-Amanalco watershed, more than three thousand families, Teresa Estrada's family for instance, lack access to water and sanitation.
In 2017, we worked with the communities to build and teach them how to keep green technologies running. For instance, rainwater harvesting and dry toilets that permit access to water and to manage waste properly.
FACT SHEET
Location: Villa Victoria and Amanalco, State of Mexico
Partners: Procuenca Valle de Bravo
Total Investment: USD $89,698.89
FEMSA Foundation's Investment: USD $83,449.55
Duration: April 2017 – April 2018
General Objective
Promote the provision of water and sanitation in the Amanalco – Valle de Bravo region and achieve the improvement of the quality of life of its residents as well as the sustainable management of the Amanalco-Valle de Bravo Watershed. This must be carried out in order to improve the quality of its water resources, biotic and the environmental services that it provides.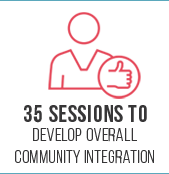 The Valle de Bravo-Amanalco watershed supplies over 2 million people in the metropolitan zone of Mexico City everday. Nonetheless, in cuenca arriba where Teresa Estrada and more than three thousand families live lack access to this resource.
Walking long hours to collect water is a common task for Teresa and her neighbors. Additionally, having access to sanitation and hygiene seemed impossible due to geographic conditions.
"Thanks to this benefit I've changed my routine because I don't have to collect water to carry out my chores".
Teresa Estrada, Mesa Rica
Since 2008, we've worked to improve the quality of water in the region with the installment of green technologies. In 2017, we installed rain harvest to store water for months of drought. Moreover, we built bathrooms to avoid open defecation (it's a factor that plays a key role in the pollution of water sources).
When the inhabitants of the community (like Teresa) get involved, they not only develop new capacities to keep the infrastructure working, but they feel empowered and compelled to apply them in other aspects and take charge of their development.